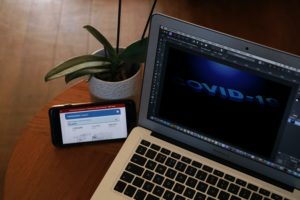 Life has been totally upended after radical social distancing measures became a reality. People aren't working from home – they're working at home during a global pandemic.
During this time of physical distancing, connectedness to self and others is crucial to maintaining some sense of normalcy and critical to good mental health.
Lunch hour yoga, ducking out for a quick coffee or walk in the park have become a distant memory for many. Trying to stay physically fit, coupled with the sudden loss of a work-life structure, has seen many workers struggling to find balance in their daily lives.
The need to navigate phone calls, emails, social media and more show no signs of abating. Video conferencing calls have been booming, with services like Zoom growing from 10 million to a staggering 200 million daily active users in three months.
The world has vastly and quickly changed and being "screen fit" has never been more important thanks to new, energy-sapping habits.
But how do we avoid digital fatigue and stay connected?
Disciplined routines
Establish a daily schedule and stick to it.
Maintaining old routines can have a powerful and positive psychological impact – for example, changing out of pyjamas to start the working day and/or putting the laptop away at the end of it.
To ensure team members don't feel isolated, set a timetable to check-in on them. It's tempting to just schedule more meetings to do this but look for other ways to connect. Spontaneous, virtual coffee breaks or after work drinks can offer a welcome alternative to the regular humdrum of working solo at home.
When people are physically gathered in a room for meetings it's easier to take our cues from body language – when to talk or to gesture in agreement – but this can be much harder on a video conference. This, as well as staring at the screen(s) without a proper breather, can lead to mental and physical exhaustion.
Regular check-ins
A basic "traffic light" system to assess staff wellbeing can be beneficial – green means things are good, yellow says they're OK and red isn't a great sign.
This approach could prevent certain situations from spiralling out of control and affecting productivity as well as other team members.
Actively switch off
Work-related stress is a common trigger for anxiety; a silent culprit is information overload. It's important to "switch off" from the news cycle, especially in the current climate.
Too much social media engagement is also best avoided as that could add to an overdose of negative content consumption.
Stay socially connected
When used wisely, instant messaging or collaboration platforms can help set boundaries around virtual water-cooler chats.
Introduce dedicated channels on Slack or similar tools where non-work and non-pandemic discussions are held. Recipes, cat videos, funny stories and the like to lighten the mood should be encouraged.
In The 7 Habits of Highly Effective People, Stephen R. Covey talks about the concept of Circle of Concern and Circle of Influence.
The fact people can't go to the gym or casually catch up with friends is outside of our circle of influence. But there are opportunities to focus our energy on things we can influence and control – exercising regularly, sleeping well and eating healthy as much as possible during this time.
Using digital devices and social media platforms wisely and a regular dose of digital detox could go a long way in helping people stay screen fit and emerge from this crisis happy and healthy and ready to face the world again.
By UniSA Online academic director associate professor Barbara Parker.
This article was first published by DiversityWatch