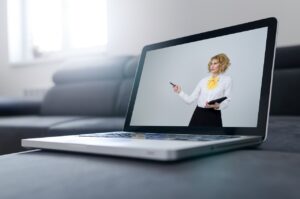 Etiquette can be a controversial topic, particularly in workplaces where issues can result in an uncomfortable meeting with HR. While official company policies may not have been breached, colleagues' feelings and expectations can be left disorientated.
The problem with etiquette is that it's hard to define and regulate and is often specific to a particular team or workplace.
In the new era of hybrid work, professional etiquette is even more difficult to manage. The way we work from home, in a private, more relaxed and flexible setting, is different from how we need to behave in a shared workplace. Transitioning between the two isn't always easy. Should we have a dress code at home? Are messy backgrounds or pets distracting in video conferences?
We recently partnered with Debrett's, the renowned authority on modern etiquette, to create a guide for global etiquette in the hybrid workplace.
Here are eight key recommendations:
Dress for success
Although people will choose to wear more relaxed, comfortable clothing when working from home, casual can become too casual. How we present ourselves does create a psychological impact. Aim to dress as if you are in the room with other meeting attendees.
Create a clean background
Ensure that your regular video conference background is free from clutter, including any potentially inappropriate wall decorations or artwork. If it's not possible to have a neutral, clean-looking space, consider a virtual background or at least blurring out your background with one of the many video filters available.
Forget the feasting
A glass of water is appropriate, but you should try to avoid eating during teleconferences. You need people to focus on what you're saying, not what you're having for lunch. On the other hand, if you want to hold a virtual team lunch, it can be a good way to relax and bond with colleagues whom you don't see so regularly in person.
Avoid diversions
Domestic disruptions can be an issue during video calls. You may need to answer the door because a parcel has arrived, or the oven timer has gone off. Do all you can to minimise these diversions and avoid doing domestic chores during a call. If you must attend to something, such as a knock at the door, switch your video to a profile pic and go on mute.
No meeting multitasking
It's inappropriate to multitask during meetings, such as looking at your phone. It is also very bad form to carry on working while on a call. Everybody will realise your mind is elsewhere and hear the incriminating clatter of your keyboard. If you need to make notes, let other meeting participants know, and mute yourself while typing.
Keep fixed and focused
Avoid video motion sickness by staying in a fixed position during video calls. Carrying your device while you answer the door or wander around the office during video calls is very distracting for other participants. Switch your video off if you need to move around during a call.
Mute your mates
Whether in the workplace or at home, background noise is distracting. It's fine to ask colleagues or household members to keep their voices down and to turn off the music or other sounds. If a neighbour starts leaf-blowing, close the window and/or move to a quieter area of your home.
Give a royal wave
Ending a video call can be awkward or abrupt. To make calls feel more friendly and inclusive, you can soften the abrupt finality of pressing "End call" by giving colleagues a wave goodbye.
The shift to hybrid work has been very sudden for most people, and it takes time to adjust. But by observing some basic guidelines and consideration for others, it can be a much smoother experience for everyone: whether in the office or working remotely.
Employers should also ensure that everyone has the necessary tools and training to make virtual meetings successful and inclusive. High-quality video and audio equipment, for both physical workplaces and home offices, is key to achieving meeting equity and providing a level playing field for all of us to show we can maintain the highest standards of workplace etiquette.
By Bill Zeng, senior director, Hybrid Work Solutions and Peripherals, APJ, HP, Poly
This article was first published by HR Leader