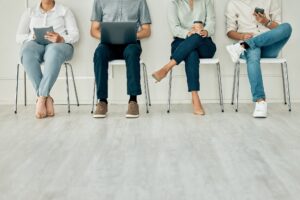 With Australia's recession risk easing but continued economic uncertainty ahead, businesses are looking for ways to remain as agile as possible. While many are back in growth mode, taking on a large, permanent headcount may be too much risk.
At the same time, skilled, workplace-ready people are required to meet rising demand, with many organisations already planning for the Christmas holiday season.
One of the solutions to this stalemate is temporary staff. They bring a range of benefits to businesses, such as flexibility and new skills, without the cost and risk of permanent employees.
1. Casual staff = Greater flexibility and agility
Being able to scale up headcount instantly is vital to seize opportunities –  businesses need access to a pool of trained, available people quickly and seamlessly without worrying about long-term drawbacks and excessive paperwork. One way is to go through staffing agencies – they can recruit immediately available and vetted workers without the burden of admin and the cost of payroll tax,  streamlining the hiring process. The additional costs of casual loading are often less than those required to hire employees permanently or on a contract. It's also ideal for highly seasonal businesses like tourism and hospitality, which may not need as many people in slower periods.
For example, Openair Cinemas were frequently short-staffed due to the sporadic and seasonal nature of its business. Hours are spent each week on payroll due to the complexities of a large number of casual staff – under varying wages and employment frameworks – on the books. By outsourcing to a staffing solution, the organisation completely eliminated recruitment, screening, training and compliance/qualification checks and built private talent pools, enabling them to rehire staff easily.
2. Diversified skill sets and perspectives
New people mean new skills and perspectives, which often bring forth creative and valuable ideas. People seeking casual work often differ from those applying for permanent positions. They include a younger cohort, such as international students, who may bring different languages and cultural knowledge. Others, like family carers, may have more maturity and patience in dealing with stressful customer interactions. Still, older workers, including retirees, can bring a wealth of industry knowledge and experience.
Given your customers are likely diverse, having a workforce that both matches and can communicate with them is a major plus.
For instance, managed installation service InstallEx struggled to find staff with suitable qualifications and skills. People were often not well-suited to roles or had misaligned expectations of the requirements. By hiring from pre-vetted temps, InstallEx could be confident that new recruits had the right skills or licences, and were much more reliable, reducing churn.
3. Boosting workplace morale
Temporary staff hires can help alleviate pressure and high workloads, and bring new energy to your business, improving morale for permanent staff and managers. Instead of paying for overtime and letting staff get burned out, you can invigorate your organisation with 'fresh' people. High morale correlates with better productivity, job satisfaction and employee retention rates.
Take the case of Uber. When it first entered Australia and had to scale rapidly, it required a reliable contract workforce. By partnering with a casual hire agency, Uber  had workers on demand and keet the core team supported plus engage permanent employees.
4. Future talent pool
Many casual workers eventually transition to permanent roles. If they've already worked for you, understand your business and have demonstrated how productive and suitable they are, they're an ideal source for full-time employment. Given the high cost and time involved in traditional recruitment, being able to instantly identify multiple potential candidates is a competitive advantage.
Pre-made meal delivery company Youfoodz often needed extra hands on deck, with only a few hours' notice when volume increased. Company culture was very important, so Youfoodz was initially hesitant to try temps. But after being able to build private talent pools, it recruited over 30 people, ensuring the company's high standards of culture were maintained by "trying before they buy".
Contingent workers are crucial to the modern workforce, bringing significant value to organisations. Hiring casuals, temps and seasonal workers delivers specialised skills and greater flexibility – all the more important in a volatile economy.
By Thomas Amos, CEO, Sidekicker
This article was first published by Kochie's Business Builders