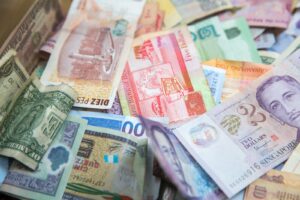 It is undeniably a challenging landscape for Australian startups endeavouring to secure funding right now, owing to a pronounced correction in venture capital markets and the notable increase in interest rates. But Asia could present a promising funding opportunity.
Last year, major US venture capital firms pulled back on local deal-making in Australia – is it time to look towards Asian funding?
Last year, major US venture capital firms pulled back on local deal making in Australia. Seventeen of the most active US VC firms in Australia made only seven investments in the second half of 2022, compared to 28 and 39 in the two halves prior, according to figures from Cut Through Venture.
Despite this retreat from the US, Aussie startups still managed to raise $661 million in the first quarter of the 2023 calendar year via 82 deals. However,  as time ticks on, startups will have to look to other locations for resources and funding.
One key opportunity for venture capital lies in Asia. Collectively Australian businesses have long overlooked regional VC opportunities. But in a post-pandemic environment, Asia is an even richer opportunity than ever before, and startups can't afford to ignore it any longer.
The land of high net worth
In recent years, Asia has witnessed a significant influx of high net worth individuals (UHNWI), setting new records in the region. Singapore, undoubtedly the vibrant business hub of the APAC region, is poised to welcome approximately 3,500 high-net-worth individuals (HNWIs) as new Singapore citizens in 2023. Most of them hail from China, India, Indonesia, Malaysia, Vietnam, the Philippines and the UK.
This thriving city-state has earned recognition for its economic prowess, and was recently named the fourth richest city in the world according to investment migration firm Henley & Partners, and was ranked 8th globally in regard to the fastest-growing UHNWI populations in 2022. Malaysia also came in 6th place with a 9.4% growth rate and Indonesia in 7th place with a 9% growth rate.
Malaysia also came in 6th place with a 9.4% growth rate and Indonesia in 7th place with a 9% growth rate.
Additionally, the number of ultra-wealthy people in Singapore is expected to grow 17.7% to around 5,300 between 2022 and 2027, according to a report put out by real estate consultancy Knight Frank.
Singapore offers a stable political and regulatory environment, a developed financial services sector, good living standards, established healthcare and education infrastructure.
So for Australian ventures already looking to the region for potential sources of funding, concentrating your efforts on key markets such as Singapore, Malaysia and Indonesia, where wealthy individuals are on the lookout for solid investment opportunities would be an ideal strategy.
Families setting up local offices
With so many high-net-worth individuals making their way to Asia, it makes sense that an unprecedented number of family offices are cropping up in the region.
Singapore currently has about 700 family offices (2023), up from 400 in end-2020 and up sevenfold from 2017, according to government estimates.
The majority of these families are coming from within Asia, but Singapore is seeing increasing numbers of families from Europe and America setting up local offices to support their investments in the region.
Migration to the region, as well as a focus on succession planning and wealth management in a post-pandemic world, are two drivers for the uptick in family offices.
By tapping into this network of family offices, Australian startups can not only gain access to capital, but also to strategic guidance, enhancing their growth prospects.
A voracious appetite for Australian investment
On the other side of the coin, Asian investors are hungry for solid Australian opportunities. Japan is currently Australia's biggest foreign investor in Asia, in fourth place after the US, UK and Belgium. This is followed by Singapore and Hong Kong.
With the political tensions of recent years subsiding and the Australia-China bilateral relationship stabilising, mainland Chinese investors are also looking at Australia again. Chinese investment in Australia increased by 170.2 percent from AU$0.8 billion to AU$2.1 billion in 2022.
The mining industry and Western Australia enjoyed the lion's share, but Chinese investors are also showing a keen interest in renewable energy, which accounted for 12% of total Chinese investment inflows.
Additionally in 2021, Singapore was Australia's biggest source of foreign real estate investment, but China is rapidly reclaiming the title.
It's clear why so many in the region look to Australia as a secure option. For starters, Australia boasts a relatively stable and transparent regulatory environment and a well-developed legal system.
This stability reduces investment risks and provides a favourable business environment for both domestic and international investors.
Australia also has a reputation for fostering innovation and technological expertise. Asian investors recognise the potential for collaboration and knowledge exchange with Australian startups in emerging technologies, which can lead to significant returns on investment.
It's also a market with a keen willingness to embrace Australian technological innovation.
For local startups, Asian investment can open up exciting pan-regional expansion opportunities. Domestic consumption is still rising in most of Asia. Resources and food security are critical for fast-growing, fast-urbanising nations. There are ready markets for Australian food and beverages as well as high-end services.
Ultimately, Australian startups that look to Asia and secure the capital they need will be able to accelerate growth and enjoy a competitive edge in the global marketplace.
By Steve Maarbani, CEO of VentureCrowd
This article was first published by Forbes