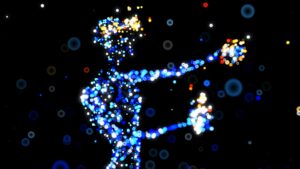 The metaverse has become a buzz word in the past six months, making tech headlines and grabbing the attention of marketers and innovators with promises of a digitally and physically intertwined world. But the jury's still out on whether it will be as revolutionary as it is hyped to be.
So far, uptake has been rapid. Three pivotal forces are influencing the rate of adoption and development in the metaverse. Consumers are getting on board: creating an opportunity for brands to leverage metaverse technology and channels, and adapt to meet changing needs.
1. Generational
The foundational elements of the metaverse – global, equitable, transparent, connected – are closely aligned with the generational characteristics of the upcoming Gen Z workforce and consumer base.
Gen Z are pure digital natives. Their digital world is already just as important to them as their physical world. They're also a global generation, and the metaverse is not defined or confined to any specific geographic location. Like the internet, it enables connection with people anywhere in the world.
Another driver is equity. There's a push for an open metaverse where the entire digital ecosystem isn't controlled by just a few corporations, as we've seen with web 2.0. The de-centralisation of controlling power, and transparency, using the blockchain, has been found to be of great importance and value to Gen Z.
Gen Z are also globally and socially connected. Growing up in a world of social media, they are connected and shaped by their peers. The magnitude of their network is far larger than previous generations, numerically, geographically and in terms of being 24/7.
2. Societal
The profound impact of the COVID-19 pandemic on our societies has been obvious over the past two years. But it's particularly apparent in the accelerated adoption of digital technology, with the increasing comfort and familiarisation of generations that were previously more reticent.
The pandemic initiated an extensive, sudden, and dramatic digital transformation in society. It forced people who may have initially been hesitant to conduct meetings via videoconferencing to adapt. "Zoom" became a buzzword, as well as online events such as "virtual happy hour". This has increased comfort levels and familiarity with digital means of communication and facilitation, making people more ready to interact virtually in other areas of their lives.
3. Technological
The increased investment by controllers of Web 2.0 companies into research and development of metaverse infrastructure is a key indicator of progress in the space. Apple, Facebook/Meta and Microsoft are all placing big bets on the metaverse with significant investment into products and services. Apple is working on augmented reality glasses, Facebook rebranded to "Meta" and Microsoft spent $75 billion to buy video game maker Activision.
This is accompanied by changing workforce demands to facilitate the build and development of supporting systems and technology. Between May 2021 to October 2021, Metaverse related job postings increased 400% according to GlobalData.
The growth of 5G networks will be another catalyst driving people to use metaverse-like technologies. Hardware development progression following Moore's law, paired with algorithms and software improvements, will also fuel rapid growth and development. Intel has estimated that the metaverse will need a thousand-fold increase in computing capability, and considers that it "may be the next major platform in computing after the world wide web and mobile".
Whether or not the metaverse will live up to expectations, this trio of forces has important implications for marketers. There's a clear change in the expectation of customers in terms of how and where they interact with businesses, vendors and services.
Brands need to decipher whether they are expected to play in this world. If they are, how and where can they show up? One growing trend is curated communities, where for example a brand has a group on Facebook for customers/users to ask questions and share experience. This includes interaction with other consumers as well as the brand itself.
If brands don't engage with this consumer desire to interact, they may lose access to large customer segments with growing purchasing power and influence. Some brands may have been underwhelmed by their investment in earlier metaverse concepts such as Second Life, for example, Telstra's kiosk was shut down just one year after opening. But the internet in 2022 is a very different beast to the internet of a decade ago, and so are its users. If they're Metaverse-ready, then brands need to be as well.
By Emma Lamb, Associate-Experience at Publicis Sapient
This article was first published by AdNews